About Us
"Where did you get those suits?" was the regular comment from Mums at our local adventure playground on seeing our toddler twins playing in their All in One waterproofs. It became clear that, although Mums recognised the benefits of top to toe waterproof play clothes; finding this kind of outdoor wear in the shops was a different matter, and choice was always extremely limited.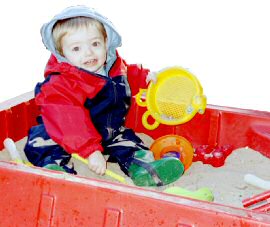 Not so in Scandinavia, we found on a family trip to Denmark. Scandinavians love outdoor life and dress their kids appropriately for outdoor play.
So we started Waterproof World, as a family business, to bring some of that culture to the UK, and to offer you choice of products and price ranges together for the first time. We are really excited about the products we have to show you, and we hope you like them too!
Cheers,



Mum to Jim, Eve and Dan (Dan here enjoying his first waterproof suit in the sandpit!)
A lot of testimonials on packaways
and more
and more
and more ....