Matai and Cato
Judy in New Zealand ordered from our website for her Grandchildren Matai (aged two and a half) and ten month old Cato who live in Cambridge.
Judy told us ' On Sunday Jan 4th I placed an order online from New Zealand to be
delivered to my grandchildren in Cambridge UK, was most surprised to hear
the parcel had been delivered on the 6th. After hearing from my daughter about
the quality of the garments I promptly emailed again to order more. That
parcel arrived on the 8th. Amazing service!! How exciting it was for me to receive
photos this week of my grandchildren all warm and cosy in their
Regatta Puddle II suits playing in the snow on Monday when the snow
storms hit the UK. I will definitely be recommending Waterproof World
for its quality products and service and will be back to order more as
my grandchildren grow. Absolutely brilliant !! Many thanks'
Here are the fab photos of Matai and Cato .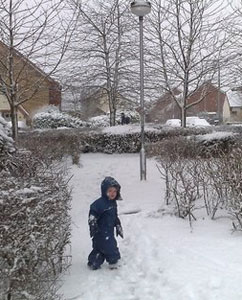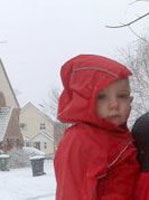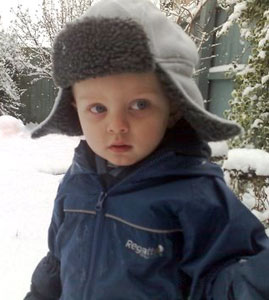 'Matai aged 2 1/2 yrs in his blue Regatta Puddle suit and Lugs Russian
style hat. Cato aged 10mths was a little reluctant to play in the
unfamiliar snow but nevertheless stayed warm and cosy in his red
Regatta suit whilst he watched his brother Matai from the safety of
his Dad's arms.'