Jenny's Grandaughter
Jenny sent us this fun picture of her grandaughter happy in the rain in her pink Puddle Suit.
Jenny told us: 'Many thanks for such prompt service in dealing with our order. We e-mailed the order on Wednesday evening and received the package on Friday morning!
The suit was for our granddaughter and here is a photo of her proudly wearing it in the rain.'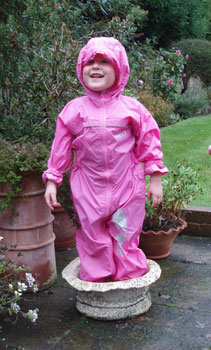 A lot of testimonials on packaways
and more
and more
and more ....