Iona B
Here is cute 15 month old Iona having fun in her Waterproof World Regatta Puddle Suit and Togz booties. She is shown on our recent 'summer' holiday to Northumberland doing 'yoga' on the beach, and on the back of dad's bike.
Mum Jane told us ' I am very happy with the product, it is just right for the 'British summer' and has allowed our 15month old daughter play on the beach on a damp day on our recent summer holiday in Britain. She isn't walking yet so having the waterproof suit gave her the freedom to crawl around to her hearts content rather than having to stay in her pushchair. The waterproof shoes (booties) are great too. I'm sure once she is walking it will give her freedom again to play outside, where she loves being, on damp/rainy days. I was also very pleased with the price of the waterproof suit and the very quick delivery following my online order.'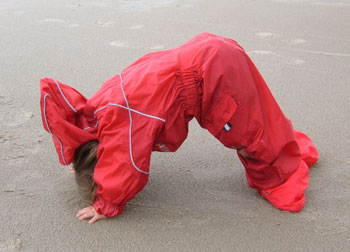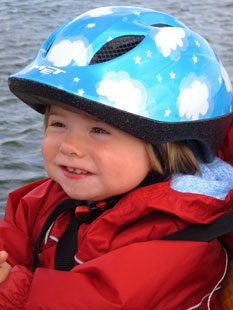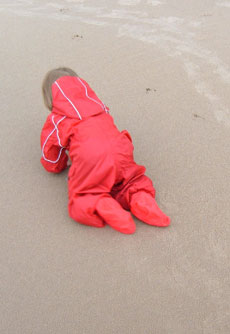 A lot of testimonials on packaways
and more
and more
and more ....