Ines R
Mum Elaine sent us these very sweet pictures of Ines happily sporting her new Playshoes cape.
Elaine explained '6 year-old Ines had major surgery on her right arm this week and has to wear a nasty big metal frame with 4 metal pins in her arm for the next 3 months. The bandages are really bulky and she can't get her arm into any coat sleeves. So I was delighted to find this fantastic rain poncho on your website which means the frame won't stop her going out in all weathers. She's pleased as punch with it and so am I – it's obviously really well made, with taped seams etc., and the sizing is generous so I'm sure it'll continue to fit her for a long time after the frame has been removed. All we need now is some rain!!'

Elaine also sent us this photo of Ines, still in hospital, just after her operation. What a brave little girl - and what a difference 3 days makes !!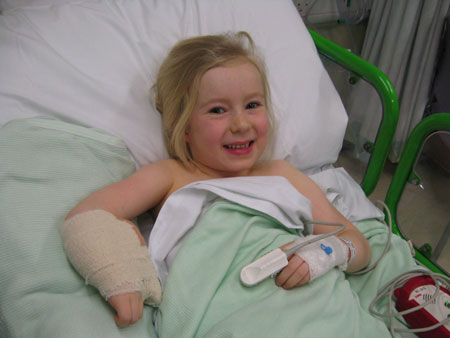 A lot of testimonials on packaways
and more
and more
and more ....