Dylan-John
Hollie sent us these marvellous photos of her little boy Dylan-John wearing his Waterproof World Waders right up in the north of Scotland.
Hollie told us: 'I have attached pictures of my son Dylan-John who is two. I ordered his waders on Tuesday afternoon and they were here by Wednesday!! I couldn't believe the fast delivery! Dylan-John is delighted with his oil skins as he calls them. His Dad, Great Uncle and Great Grandad all work at the sea and wear yellow oil skins - he looks the part next to them! Here are pictures of him on his Dad's work boat and at the harbour in John O'Groats just 10 minutes from our house. Thanks again for the quick delivery - I will be shopping on your website again!'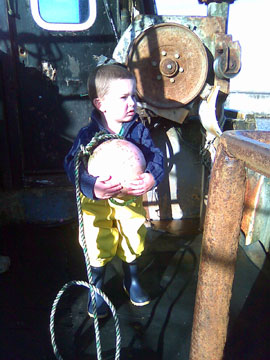 A lot of testimonials on packaways
and more
and more
and more ....