Andrew and James
Kirsty sent us these pictures of her boys Andrew and James wearing their new Kiba jackets, with the Kiba dungarees that Kirsty had bought previously from us.
Kirsty said "Here's a photo of Andrew (5) and James (2.5) enjoying the snow last weekend in their grandparents' garden while keeping nice and dry in their new jackets.
Also a photo of what prompted the purchase of the jackets - I got fed up trying to dry out their duffle coats so often!
Their trousers/dungarees are also fab, a must for little boys! Thank you for your prompt service."

And below is the 'before' photo - Kiba dungarees and duffle coats...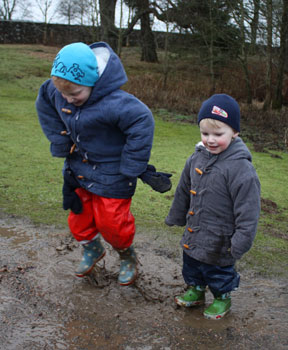 A lot of testimonials on packaways
and more
and more
and more ....